Description
9D Cat Eye Gel Polish brings fantastic and super bright  look to your nails!
CAT EYE EFFECT – 9D Cateye gel polish has more possibility and creativity, the effects depends on the magnetic stick you use and the way you use it. The magnetic stick is needed and included. 
SAFE – Non-toxic, minimal smell, non-damaging to nails.Suitable for natural nails, UV gel nails, false nails, acrylic nails, nail Tips etc Set.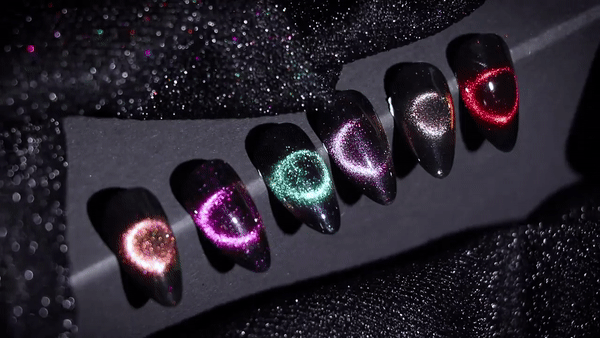 Step by Step: 
1. Clean Nails then trim nail surface as normal nail art process. 
2. Fully shake up the gel polish, it can make the gel polish color balanced. (Important)
3. Apply Base coat first, which can make gel polish lasting longer, cure with UV lamp or LED lamp. (Necessary)
3. Apply a layer of black color gel and cure it.(Necessary)
4. Apply the first layer of magnetic gel and cure it.
5. Apply the second layer of magnetic gel, keep the magnet close to nail surface for 5-10s and cure it.
6. Apply the top coat and cure it.

How to Remove UV Gel Nail Polish: 
• Soak nails in a glass bowl filled with a small amount of pure acetone, or wrap each nail in cotton pad soaked with pure acetone for around 5 to 10 minutes. 
• Product will start to become soft and you can gently file it away or slide it off using a small wooden stick. 
Ingredient: UV Gel Polish
Volume: 5ml
Quantity: 1pc
Cured: UV LED lamp
Effect: Magnetic
Package Include:  1* 5ml Magnetic Gel Polish
Payment & Security
Your payment information is processed securely. We do not store credit card details nor have access to your credit card information.